What is Office 365 Planner?
This week, Microsoft introduced Office 365 Planner which offers a very visual new way to organize your teamwork. Office 365 Planner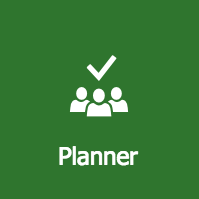 makes it easy for your team to create new plans, organize and share files, assign tasks, chat about what you're working on, and stay updated at the same time.
These are some examples Microsoft gave about how Office 365 Planner can be used:
Manage a marketing event
Brainstorm new product ideas
Track a school project
Prepare for a customer visit
Organize your team more effectively
Each plan you make with Office 365 has a board, and each board has work items or tasks which are represented by a Card that can have due dates, attachments, categories and conversations associated with it. Your team members will receive an email notification whenever they are assigned to a new Card or added to a conversation.
Cards can have documents and pictures attached that are automatically positioned so it's easier to understand what the Card is about at a quick look. Your Cards can be organized to customizable columns called Buckets, which can be tagged with colored labels and prioritized to your liking.
With Office 365 Planner you have access to different views that help you keep your work on track. One of the views is the "Hub" view, which lets you track overall progress across all of your plans, while another view the "My tasks" view lets you filter down to see what needs to be done across every plan. The "Charts" view has interactive charts for visualizing people's progress against set deadlines.
Office 365 Planner is integrated with other Office 365 services, such as Office 365 Groups, and all the conversations are also available in Outlook 2016, Outlook on the web and Outlook Groups Mobile Apps.
With Office 365 Planner you can organize your Office files, attach your Word, Excel and PowerPoint documents to a Card and you're able to edit them right away. Documents that are attached to a Card get stored in a SharePoint Online document library, allowing you to work on them offline.
Office 365 Planner is available globally and it's ready for Enterprise customers
Office 365 Planner has technical features such as multiple redundant backups, almost instantaneous recovery and HIPAA, FISMA, ISO27001 and EU Model compliance. To help ensure that data is safe, secure and always available for Office 365 customers. Microsoft wants everyone to have full access to Office 365 Planner, so they deployed the service in multiple datacenters around the globe.
When is Office 365 Planner available?
Office 365 Planner will be available in preview to Office 365 First Release customers next quarter.
Is your organization ready for Office 365? We can help, contact us today!