Windows 10 Has Arrived
In a blog post back in January, CGNET detailed the upcoming release of Microsoft's newest revision to their flagship operating system: Windows 10. This new version represents Microsoft's ambitious vision for its future: a family of personal & business devices, all running specialized and customizable versions of Windows that can evolve over time.
Now Windows 10 is being released to 190 countries worldwide, along with a variety of bold proclamations about its capabilities. Microsoft has labeled it the "Best Windows Ever" and described a number of key updates and improvements:
.
Creation and Availability
Windows 10 was created with consideration from Microsoft's customer base, and is available as a free upgrade to certain current Windows users. "From the beginning, Windows 10 has been unique – built with feedback from five million Windows Insiders, delivered as a service with ongoing innovations and security updates, and offered as a free upgrade* to genuine Windows 7, Windows 8.1 and Windows Phone 8.1 customers."
.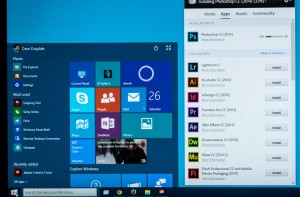 Fast and Familiar
The new OS integrates the desktop and mobile platform experiences more thoroughly, adding reviving the old Start Menu and adding Tiles to it. Files can be made available instantly across devices with online storage via Microsoft's OneDrive.
.
Personalized and Secure
A new feature called Windows Hello provides biometric layer of security so that only approved user(s) can access the system—without the use of a password. There are also additional input methods for Windows 10, including Voice, Pen, and Gesture (with compatible hardware) to "allow you to more naturally interact with your PC."
.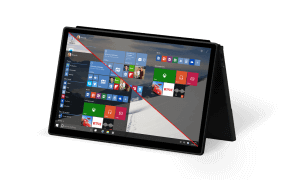 New Experiences
Windows 10 also includes Cortana, Xbox, and mobile phone interactivity. Microsoft is invested in allowing users to do anything from anywhere when it comes to creating, storing and accessing their information.
.
Enterprise
Microsoft is also touting the new OS as "Best for Business… Ready for corporate deployments, Windows 10 will help your company protect against modern cyber-attacks, deliver experiences your employees will love and enable continuous innovation with a platform that keeps your company up to date with the latest technology." Additionally, the Windows Store offers one-stop shopping for popular free and paid apps, games, movies, TV shows and the latest music, which work across all Windows 10 devices," and the Software Development Kit is available as well, for partner companies to create their own apps.
.
Only time will tell if Microsoft's dream of uniting all possible computing under a single banner will become a reality, but Windows 10 does include a wide variety of new features and functions that are sure to interest consumers.