Windows 10 – Integration across Platforms and Applications
On March 18th, Microsoft showed off the newest preview of Windows 10 (build #10041). One of its highly touted features was that it offers a "tailored experience" for all hardware across a single platform family. This means that developers can build universal apps that will work on your PC, as well as on phones, tablets, Xbox, Microsoft Surface Hub, and Microsoft HoloLens.  Microsoft is striving to design software that can bring a new and improved experience on all devices.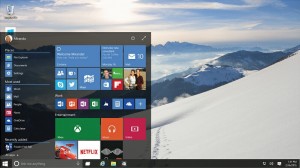 The new "Start Menu" button is one of the biggest improvements. When you click the start menu a window pops up. The left hand side of the menu displays a more traditional scrolling list, while on the right hand side Microsoft added live tiles.  Applications that are enabled to give notifications live; weather alerts, stock information, data analytics, etc. are displayed right on the start menu.
Another promising feature in Win10 is the integration of Cortana (Microsoft's version of Siri). Cortana is a digital assistant designed to help the user obtain information about most anything.  Cortana was integrated on Windows phones last year — Now, Cortana will make its way into Windows 10, allowing the user to type or speak to it.  Ask Cortana anything and it will give you an answer.
A new browser is also introduced, called "Project Spartan". It features the ability to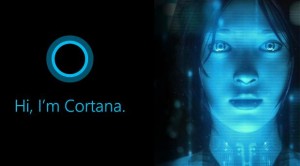 annotate by keyboard or with a pen directly on the webpage.  Then it can be saved or shared.  It's the new look and feel of the web. By using Cortana together with this new browser, users will be able to interact with Web-based information in new ways.
Windows 10 claims seamless interaction and connectivity between devices and applications. Applications like PowerPoint, Word, Outlook, Excel, and OneNote will be able to share, control and edit documents on multiple devices. These applications offer the user continuous use of an app and its content across different platforms.
Windows 10 will also run the Xbox One. Using the Xbox Live application users will be able to play games on their PCs and on the Xbox One. The game DVR allows recording 30 seconds of game play and sharing it across devices or online.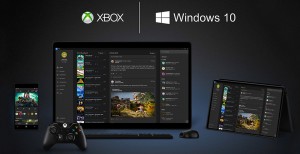 The new Microsoft HoloLens will also be running Windows 10. The HoloLens will give the user the ability to see a virtual world, superimposed over the real one. The user will be able to see and touch virtual icons, pictures, text, and data through the HoloLens. The idea is that a user can create a virtual world of innovation using the new HoloLens and Windows 10.
The Microsoft Hub is another device that will run Windows 10. Microsoft Hub is a smart board designed to help improve the group computing experience. Windows 10 applications connect devices and content can be presented, shared and edited right on the board or on any other device.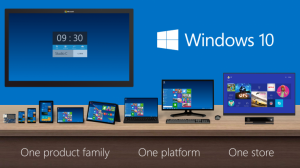 Microsoft wanted to create software that would revolutionize the way humans interact with computers and at the same time bring Microsoft's devices together. The new Windows 10 ties the devices from the Windows family, and provides a whole new experience for the user. Windows 10 can be downloaded for free by Windows 8.1 users for the first year.