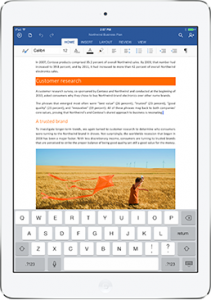 By Tim Haight
Microsoft has given us a lot to like in the new Word for iPad, released last week. Go ahead and download it. But before you recommend it to your organization, or, worse, decide to adopt iPads based on Office's availability, stop and think.
I love my iPad, and Word and I have a long-term relationship. I downloaded my copy of Word for iPad less than an hour after it was made available last Thursday. Since I already have Office 365, I was able to open up all its features immediately. It's pretty. It displays Word docs really well, and it works with OneDrive for Business nicely. It's got a lot of nice features, so you can create pretty good documents. It will make it a little more fun to read and edit documents, but…
In the short run, it may end up being like the old days, when you bought a computer with a much faster processor and really expected things to change. It's a nice improvement, but don't bet the farm on it. Here's why:
While it's a nice iPad word processing app, it's not really Office, as we know it, on the iPad. A lot is missing. I opened one of our recent proposals and immediately discovered it doesn't do multilevel lists. That's the numbering that goes 1.1.1.  No big thing, except my boss is addicted to it. So if I want to edit a proposal on the iPad, I have to leave the numbered headings alone.
It also doesn't have the format painter, which I use all the time. You can't open PDFs in it. You can't highlight a header and click "Update Heading to Match Selection." You do have keyboard shortcuts, but they're on a Mac keyboard, which is what you get with an iPad. Get used to using the splat.
This may sound petty, but it means that for my nitty-gritty work in Word, this doesn't cut it. I can't ditch my notebook yet. So if you're a Word power user, you may not use Word for iPad all that much.
A Lot to Learn
That may be OK for a lot of people. Only some of us are Word slaves. But before you hand it to executives, even, assess how much they like learning new apps. There's a learning curve just to figure out where everything is. "Save As" has been replaced by "Duplicate."  It's not just suddenly having Word on your iPad. Getting Word for iPad to do much is a learning experience. And I've found that many users dislike little as much as learning a new app. Also, at this point, there's not much training and documentation out there, virtually none. This will change over time, but you might want to wait.
OK, OK, to be fair, what could you expect? It's an iPad. It has a little screen and a little keyboard. It doesn't do copying and pasting among multiple open applications all that easily.  To a lot of people, however, this won't matter. You won't take away your admins' PCs or Macs and give them iPads, but many of your traveling execs will like Word for iPad fine.
If they can figure out how to use it.