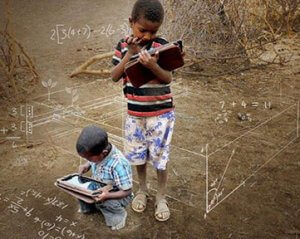 How science fiction becomes incredible reality. Read on.
Twelve years ago, science fiction writer Neal Stephenson wrote a novel called The Diamond Age. It was the story of what happened when a girl, a street urchin, changed the world after coming into possession of a remarkable book, a computer programmed to teach her everything she needed to know. In the novel, the girl and her book changed the world.
Now it's beginning to happen for real.
Last month, at a ceremony in Muheza District, Tanzania, the World Food Programme (WFP) and the United Nations' Educational, Scientific and Cultural Organization (UNESCO) distributed Google Pixel C tablets to children. 2,400 children from 167 villages in the area will get them. The tablets are loaded with software designed by the five finalists in a $15-million Global Learning XPRIZE initiative to educate the world's children better. WFP's news release is here.
WFP is one of CGNET's customers. They are an example of why we at CGNET come to work happy because of the people we are working for. Not only do they work tirelessly to save the lives of people beset by natural disaster, famine and their fellow humans, but they still find time for projects like this.
Here's the premise: "If we can prove our basic supposition that children can learn to read, write and do math on their own, and with each other, using only technology, the positive results will be global and exponential."
This was said by Matt Keller, senior director on the Global Learning XPRIZE to Toby Shapshak. Shapshak wrote an excellent article about the project in Forbes last September. Shapshak's TED talk on innovation in Africa, BTW, has had more than 1.4 million views.
Before we start worrying that having kids teach themselves, without teachers, will put teachers out of work, we should review the situation, as Keller did. "There are roughly 60 million kids who cannot access any kind of school. Another 250 million go to school but leave without knowing how to read, write, or do basic math. UNESCO estimates that over $100 billion is spent on schools that produce illiterate children worldwide. This to us represents an epic market failure."
XPRIZE Foundation CEO Marcus Shingles added that "UNESCO estimates that the world will need 1.6 million more teachers globally, a number set to double by 2030."
The need definitely exists, but can it work? So many projects trying to use technology in global development fail. But the process involved with this one provides some hope.
Five teams of educators and developers are involved in the field test of this technology. They were selected from 198 who competed for the $1 million each winning team received, to help them carry out their tests. The team whose solution enables the greatest proficiency gains among the children will win $10 million, which will be awarded in April 2019. The project will run for 15 months starting last December.
WFP will handle the logistics of the project and the IT support. UNESCO and the Tanzanian President's Office and its Ministry of Education, Science and Technology will partner to oversee the educational aspects. UNESCO will monitor the children's progress in reading, writing and arithmetic to determine which software produces the most learning gains.
All the software is open source. The intent is to share it widely.
The project started back in 2014, as a five-year competition. Teams, startups, had six months to register and then 18 months to develop their solutions. WFP and UNESCO got on board in 2016. The five finalists were chosen by a panel of 11 experts and announced last September. Some of the finalists have done preliminary field testing already.
We have high hopes for the project, which might do for global education what the previous XPRIZE did for space travel. And with WFP on board, we know the IT component is in good hands.