Office 365 | Lync | Azure

Welcome to the Lync Resource Center
Overview
Microsoft Lync connects people everywhere, on devices running Windows and other operating systems including mobile devices, as part of their everyday productivity experience. Lync provides a consistent, single client experience for presence, instant messaging, voice, video and a great meeting experience.  Lync enables instant messaging (IM) and voice calling with the hundreds of millions of people around the world who use Skype.
Two Types of Lync
Lync is available either as Lync Online or as Lync Server 2013. Lync Online is available in the cloud, while Lync Server 2013 resides either on premises or at a third-party provider. Most of Lync's features are available in both versions, except that connection to the public telephone network and some other voice features come only with Lync Server 2013. The Lync 2013 clients for PCs, phones and tablets work with either Lync back end.
Lync and Microsoft Office 365
The best way for nonprofits and foundations to acquire Lync is as part of Office 365. All versions of Office 365 include Lync Online, including the Office 365 Enterprise E1 for Nonprofits plan, which is available to nonprofits and foundations in the U.S. as a donation at no cost. The best way to trial Lync is as part of an Office 365 free trial subscription, which CGNET will be happy to arrange for you. Lync Server 2013 is available separately and is not free. A 180-day free trial of Lync Server 2013 is available, however.
CGNET's Lync Resources
On the following pages, we have assembled resources that provide a great deal of useful information about Lync:
Lync Links is an annotated collection of links to Microsoft documentation, technical support, case studies, independent reviews and the official Lync blog.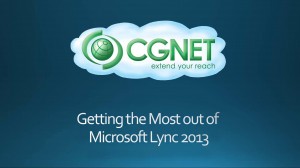 Lync Videos provides access to how-to videos from CGNET and Microsoft. These make learning Lync's features easy.

Nonprofit Pricing and Free Trial Informationfor Lync and Office 365. Here you can sign up for a free trial or for an Office 365 donation. You can also learn more about Microsoft's nonprofit pricing policies.