Welcome to the Office 365 Resource Center
Overview
Office 365 offers many exciting applications to make you more productive. The purpose of this Resource Center is to provide training materials to help you use those applications. This is a work in progress.
Microsoft also offers a wide variety of training materials at the Office 365 for Business Learning Center. Materials are nicely organized into categories, including email, documents, mobile, sites, calendar, collaborate, people, and IM and meetings.
Office 365 for Business Public Roadmap
Microsoft maintains a guide to recent and upcoming changes to Office 365 here.
Office 2013 and Office 365 Quick Start Guides
Quick Start Guides can be great "cheat sheets" for users getting used to new applications. Microsoft has created some for Office 2013, which you can find here:







Here are some Quick Start Guides and other resources for online activities in Office 365:
---
---
---
Lync
We have already created a number of resources for Microsoft Lync users, which can be accessed here.
Outlook 2013 Videos
Microsoft has created a useful introductory training course for users moving to Outlook 2013 from Outlook 2007 or Outlook 2010. You can access this training course here. The videos can be viewed on the site, or the whole course can be downloaded as a PowerPoint with embedded videos.
Outlook Web App Email Videos
CGNET has created a video demonstrating the basic features of Outlook Web App in Office 365, which is aimed at beginners:
Microsoft also offers videos on detailed aspects of Outlook Web App, including creating inbox rules, sending automatic replies, sending and receiving e-mail from accounts on other e-mail systems, redirecting incoming messages to another e-mail account, using Conversation View, finding items in your mailbox, and more. Those videos are available here.
Outlook Web App Calendar Videos
The best video introduction to using the Outlook Web App calendar is from Microsoft, which you can find here. This page also gives advice on how to use the Outlook 2013 (desktop) calendar. Scroll down for the material on the Outlook Web App calendar.
CGNET has created a video about setting up meetings in the Outlook Web App calendar.
More great information about scheduling meetings in the calendar, for both Office 365 and Office 2013, is available from Microsoft here.
SharePoint Online Videos
The videos below can help you learn basic tasks in SharePoint Online, in Office 365:
This video shows you how to synchronize tasks in a SharePoint Online task list with Outlook, using either the Outlook Web App or the Outlook 2013 client.
This video covers how to create, add and delete documents in SharePoint libraries over the Web. It then shows how you can use them in Windows Explorer and create a folder for the library in your Windows Explorer Favorites. Finally, it explains how to access SharePoint library documents from the iPad and the iPhone.
This video shows you basic search methods in SharePoint Online. It includes searching from within a site and searching from the results page. It reviews the features and filters on the results page and how you can broaden and narrow searches, including Boolean searches.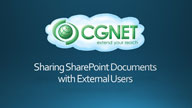 This video shows you how to share documents and folders from a SharePoint library, and how to share SharePoint sites.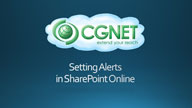 This video shows you how to set alerts on pages, libraries, folders and documents in SharePoint Online. It also shows you how the alerts show up in your email and how to set RSS alerts for libraries.