Are you an accidental Teams administrator? Hey, it happens. Now help is here. Microsoft Teams admin training has improved.
It used to be that people became accidental IT managers because their organizations couldn't hire an IT manager, but somebody on site had to do IT work, without a Computer Science degree. So somebody just rolled up their sleeves and learned. Some went on to become real, effective IT managers. Some ran screaming into the sunset.
As it was in the old days with IT, so it is now with Teams. Teams and other remote communications/collaboration apps have burst upon the scene, particularly as a response to the pandemic. Often, there hasn't been time for the person put in charge of implementing and managing Teams to get educated. Instead, it's been learning on the fly.
Succeeding at such work is an achievement, but you may have the nagging feeling that there are gaps in what you need to know. From time to time, you may find yourself feeling like you're starting again from scratch.
Microsoft Help
The problem with Microsoft help is that there's too much of it. It's much like Microsoft's software, which I see as a deep, dark forest. Stay on the path of only the steps you need to achieve a task, and you'll probably get through. Get pulled off the path, however, (what does this button do?) and you may never be seen again.
It's the same with Microsoft documentation. Moreover, it's not just an issue of finding the appropriate information. It's having to learn all the things attached to it. You may have found the section on Teams security policies, but what about all those references to related Exchange and SharePoint policies? Which help documents are up to date? What features have been renamed? In the end, Microsoft documentation has become a deep, dark forest, too.
Microsoft has found a promising solution to its software problem. Teams, in fact, is a good example. Build a (relatively) easy interface on top of your clunky installed base (e.g., Teams on top of SharePoint) and things get better for users. It appears that Microsoft has discovered this approach can also be applied to training.
Help Really Has Arrived
Last month at Ignite, Microsoft introduced several new learning paths, modules and experiences for Teams administrators. This Microsoft Teams training is now available. You still run the risk of being overwhelmed with all the help, so I suggest you use the link I provide here.
The best new stuff I saw was in two categories
Learning Paths and Modules
Interactive Product How-to Guides
The learning paths are collections of modules that address related issues. So, for example, the learning path for "Enforce security, privacy, and compliance in Microsoft Teams" contains eight modules:
Getting started securing your Microsoft Teams environment
Protect identity and access in Microsoft Teams
Manage security in Microsoft Teams
Defend against threats in Teams
Protect information in Microsoft Teams
Secure Microsoft Teams voice functionality
Implement compliance in Teams
Monitor, troubleshoot, and investigate Teams usage
The modules that I read were mostly clear descriptions of how Microsoft handles each issue. They give you the basics and links for more learning. Each module has a little test. You can get points for completing the modules toward Microsoft certifications for Teams.
What the modules did less of was to show you exactly what to do. They might mention you have to use PowerShell, but they won't say how. This is legit, however, because these paths and modules are to introduce you to the range of issues you need to understand. The specific process for providing two-factor authentication may have differences among Windows 10 machines, Macs, iPhones and Android, for example. What the modules do is to provide a clear introduction.
Interactive How-to Guides
Where things do get specific is in the how-to guides. These interactive demos take you literally step by step through how to configure multi-factor authentication for a particular group of Teams users, for example. You go through click-by-click, and you get to see all the different places you need to go to achieve the task. When you are done, you can save the guide and run it before you do the task, if you need to. They look like this: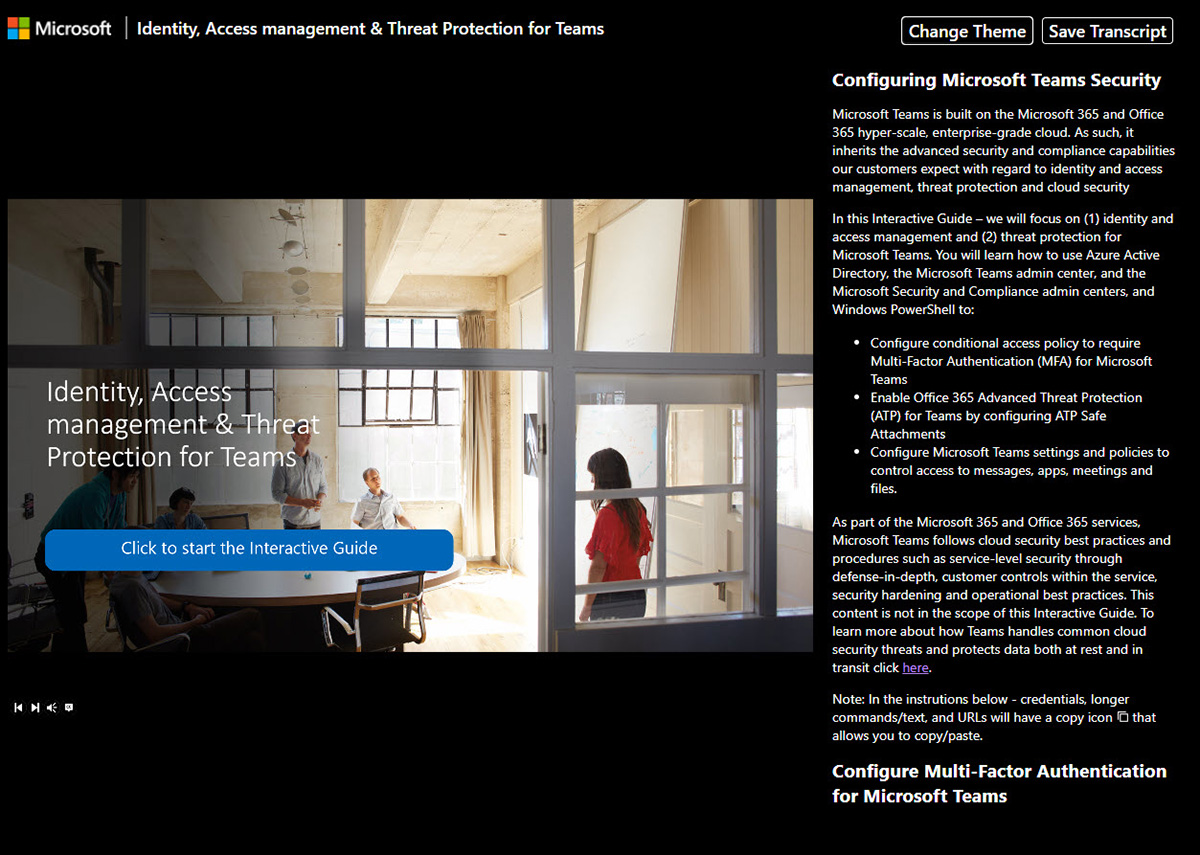 So far, there are 11 of these guides. The topics do address challenges you are likely to face:
Identity, Access management & Threat Protection for Teams
Managing Compliance in Teams
Teams Advisor: Deploying chats, teams channels and apps in Microsoft Teams
Streamlining Teams administration with PowerShell and dynamic groups
Managing Teams and Guest Access in the Microsoft Teams admin center
Configure Teams Phone System: Auto Attendant & Call Queue
Configure Direct Routing: connecting SBCs and voice routing
Configure Governance in Microsoft Teams
Configuring and deploying Microsoft Teams meetings
Configure Audio Conferencing for Microsoft Teams
Configuring Microsoft Teams for Firstline Workers
These collections of instructional materials are more like a woodpile than a deep, dark forest. They're much easier to pick up and use. Nevertheless, the pile is tall enough that it could fall on you. Pick a learning path or how-to guide on a topic you'd like to learn about and start there. Baby steps. Then you should survive Microsoft Teams training.