I recently returned to work at CGNET after a very long hiatus (doing that stay-at-home mom thing for 17 years).    Wow, things sure have changed back at the office!    I feel like someone who has been thawed out after a decades-long cryogenic experiment (do those work yet? Still just science fiction?), who has been thrown abruptly into this wide landscape of "new stuff" at the office.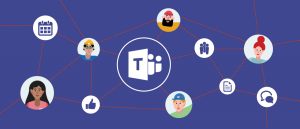 The cloud has replaced all the rooms filled with whirring, heat-generating servers.  New software platforms and apps abound and seem to be introduced, updated and improved upon on what feels like a daily basis.   Gone are the days of emailing your colleagues and patiently (or not-so-patiently) awaiting their response.  Or calling their desks and leaving voicemail messages you hope will get returned.    Or even better, those little "While You Were Out" pink notes, taped to your coworker's monitor ("Monday, 11:45am.  Dave – Can you please locate and bring  me the folder with the Johnson proposal when you get back?").  Now we have software that provides much more efficient means of collaboration, conversation and file sharing.   For me at least, it's a whole new world.
It has been an adventure navigating my way through these crowded waters and getting up to speed with my colleagues on their current methods of inter-office communication.  Here at CGNET, Microsoft has provided us with all the tools we need.   Microsoft's answer to this new era of real-time collaboration is all part of their Office 365 platform which includes Outlook, Skype for Business, SharePoint, Yammer and Teams.
Microsoft Teams is one component of Office 365 my organization adopted just before I returned to work and now uses regularly, so for now I'll focus on that experience.
What is Microsoft Teams?
Microsoft Teams is real-time collaboration, communication, app and file-sharing, meetings and more, all in one place. Here you can develop ideas with a specific group of people before sharing them with the rest of the organization.   Think of it as a workspace where you can all meet up "virtually" and get stuff done.
Organizational Channels
A team here (as in real life) is a specified group of coworkers dedicated to a singular task.   Examples:  The Accounting Team or the Consulting Projects Team or the Sales Team.   Within each team are channels you set up, which are essentially the subfolders dedicated to specific areas or topics being worked on or discussed by the team.  Examples of channels you might find under the Accounting Team:  Accounts Receivable Follow-up; Payroll; Invoices Due this Week.    You can easily find the conversations (including audio and video) you've had within these channels and the files you need for a singular client, project, etc.   You can have conversations in the channel that are public, or private chats between just you and one or more other specified collaborators (similar to Skype for Business).
Collaborative File Editing and Storage
You can upload and store files in Microsoft Teams, to make them easily accessible to your colleagues to read, review and edit.  When you upload them to the specific channel in which you are working, not only are they kept in that channel's file "drawer" (my term, as I find it easier to understand the virtual when equating it to something in the real world) they are also stored in the main file "cabinet" found on the Teams sidebar menu.    Once you've uploaded a file to Teams, you can now edit online from within Microsoft Teams, and the file is continuously auto-saved as you work on it via whichever online app opens it (Excel online, Word online, etc.).  You can also choose to open and work on the file outside of Teams. However, if you do so, the file is not auto-saved and you will need to manually save it and upload it again to Teams.  In one of my teams, half of us prefer to do it one way,  half prefer the other. One of these days we'll sort it out and come to a consensus.  Or maybe we won't.  We still seem to be getting the job done despite the friendly disagreement!  And in the end, isn't that what really matters?
 Go For It!
So, if you are an Outlook 365 user and aren't yet using the Teams module, you should really give it a try and get your colleagues onboard.   Makes the collaboration process more streamlined, project completion faster, and communication simplified.    After all, life is short.  At least until that whole cryogenic thing becomes a reality.
 ***********************************
A Few Teams Tips:
Want to get a person in your Team's attention? Start a conversation with @ and select their contact name, and voila!  They get a notification that they're being called upon in a message.
Have a question or looking for advice on tricks for using Teams? Call up T-Bot, your virtual help desk.
Want to set your status to "available", check a colleague's recent activity or get a list of recent files you worked on with just a couple of clicks? Go up to the Search bar and type in "/".  You will get a list of one-step, clickable commands to do what you need to do or navigate you wherever you need to go in a flash.