As the COVID-19 pandemic continues, I'm sensing a change in thinking among our customers. The initial focus was on the logistics of getting people working from home. Now, leaders are telling me they're realizing that "we're in it for the long haul". As evidence, look at Google's announcement that they will be extending work-from-home to next summer. This has led to the question: how do we make remote work work? (Apologies to the grammar gods.)
Last week I wrote about working on the team; about team dynamics and how to understand them to make your team better. Today I'm going to share three disparate bits that are all pointed to helping you make remote work work.
Make Remote Work Work by Putting Everyone Together
Microsoft held its annual partner conference last week—virtually, of course. I was able to get a preview of a coming Teams feature, called "together mode". Check out the picture here.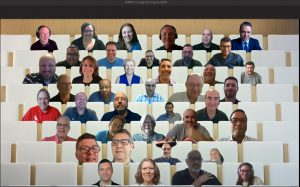 You've heard about video meeting overload being a real thing. Satya Nadella, Microsoft's CEO, even showed results of some brain scans that showed a person's brain having to work harder when participating in a meeting via video.
This "together mode" does a couple of helpful things.
It takes each participant's face and places it in a virtual lecture hall. This replaces the "Brady Bunch" view we've all become accustomed to in video calls.
Each person's image "takes a seat" in the lecture hall based on when they joined the meeting. Early arrivals take their seats in the back, just like in real life.
Once a person has a seat, their image stays there for the duration of the meeting. No more video backgammon as faces jump around depending on who's talking. Thank you for that!
You can raise your hand—your real hand, not the emoji one—and the chat will record the order in which participants raised their hands. This can be useful if you're trying to manage a lively Q&A session.
Teams Together Mode is scheduled to be rolled out in August. This will really help make remote work work!
Here's a Handy Remote Working Checklist
Microsoft put out a nice infographic that provides some great advice about how to make remote work work. Although the Teams marketing people put it out, the suggestions are not specific to Teams or any other collaboration tool. Two suggestions struck me.
Communicate your availability on a frequent basis. This seems especially true if you're managing your kids' online learning while also working. You may be home, but that doesn't mean you're available!
Record your meetings. It's so easy to hit Record and document the meeting that way. Team members who can't attend the meeting can catch up by watching the recording. Plus, you have a record of decisions you reached in the meeting. That's important, as I wrote about last week.
Don't Forget About Virtual Networking
You make remote work work when you remember that relationships matter, as does connecting with people on a personal as well as work level. Harvard Business Review has a nice piece about how to run a successful virtual networking event. (Link is here; it may be behind a paywall.)
This article doesn't cover how to run a virtual conference (that's now a trending topic). But it might be useful for arranging a social networking event as part of the conference.
There are some great tips in the article. If you think about your event as a virtual cocktail party, you'll be on the right track. For instance, you want to have some "ice breaker" questions ready to get people engaged.
I hope you find these tips valuable to make remote work work in your organization. We're going to be doing this for a while; we might as well do the best job we can!