Perhaps you recently started using Teams.  Or maybe, like me, you've already been using it for a while, but have not yet taken time to explore all of its potential.    I've done a little of that exploration for us all now, and discovered some pretty cool (and helpful) stuff.  Here's what I've found specifically when it comes to chatting in Microsoft Teams,  along with a few features I've used for a while but which newbies may not know about yet:
Tip 1:  Oops, I did it again!  Stop sending before you're ready.
How many times have you been in the middle of typing up a chat message when you hit Return/Enter in an attempt to start a new line or paragraph.  Only thing is, in Chat mode doing so actually sends your (often unfinished) thought.   So frustrating, right?  Here's the fix when you want to add a new line to your message:   Press the Shift and Enter keys at the same time and insert a line break will be inserted into your chat. Might take a while to get used to, but with enough practice it becomes routine.
Tip 2:  Make it pretty
Another way to make longer chat messages look more interesting AND avoid having to use Tip 1 at all is by entering Format mode.   Simply click on the Formatting icon

at the bottom left of your chat window and you will be taken into Format mode.  Here you can treat your message like a Word doc, complete with all the formatting bells and whistles:

Use bold, italics, underline and change the color of your text. Font size can also be changed to emphasize text.   You can format your paragraphs, add lists, quotes and hyperlinks.   And now when you hit Return/Enter, you know you are only going to the next line.  You have to click the Send arrow icon

to actually release your message into the wild.    Have fun!
Tip 3:   Search for a past chat
There are several ways you can hunt down a past chat with a colleague:
1  Use the command box at the top of the screen and enter a specific word that you're looking for. You'll get a list of all chats that include that word.
2  Use the filter function to help locate your message. From your activity feed, select the filter icon

and then either type in specific text, or click on the ellipsis (…) to choose certain types of messages (unread, ones where you are mentioned with the "@" function, etc.) you want to find.
Filter Search Step 1                             Filter Search Step 2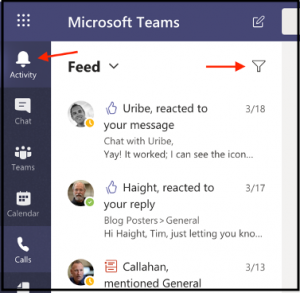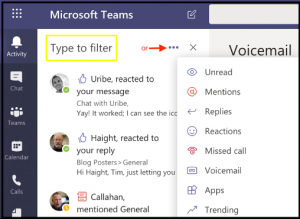 3  Finally, take advantage of the Saved Messages feature. When you have a message you think you may need to reference in the future, hover your cursor over it. When the toolbar with emojis pops up on the right side, click the ellipsis (…) for more options.   Select Save this message.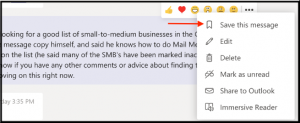 You can access all your saved messages by clicking your profile icon and choosing Saved.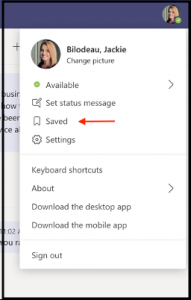 Tip 4:   Muting or Hiding a Chat
If you have been part of a group chat but are no longer an active participant, you may be tired of getting all the notifications of new comments.   It may also just feel like clutter that is getting in the way of other, more active chats.  But perhaps you don't want to delete it entirely.  Well, here are your solutions:  Muting and Hiding.   If you click on the ellipsis (…) to the right of a particular chat (see below), you can choose Mute to silence future notifications.  And/or you can Hide the chat altogether.   This will remove it from your sidebar until someone else posts to the chat again.  (At which time you can either rejoin the conversation, or hide it again.)
Tip 5:  Chat in a Channel
This is one of main components of Teams, something my colleagues and I use all the time.    Besides chatting privately with one person (or more) by using the Chat feature in the side toolbar, you can also chat with Team members in a more public group setting within a channel.
For example, we have a team called "Marketing Materials" with 5 members in it, including me.   Within our team we have several topic or project-driven Channels, one of which is called "Summary and Analysis of Recent Projects".  We can have group discussions in this channel simply by clicking Posts on the top menu.   These chats can be seen by all 5 of us in the Marketing Materials team.   As you use the reply button to respond to a member's comment or question, you are forming a threaded discussion.  Really, this is simply a typical discussion board version of Teams chatting.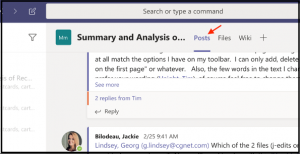 (Note that the formatting tips I mentioned earlier for private chats also work inside these channel conversations. )
Chat away!
I hope these chatting tips have been useful!  If you are relatively new to Teams and need other basic how-to information, check out my recent posts on screen sharing and using the phone functions available in Teams.