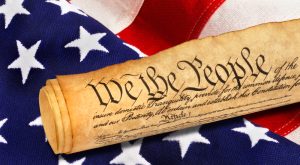 Earlier this month, President George W. Bush and Laura Bush celebrated 49 of America's newest citizens at an official immigration naturalization ceremony held at the Bush Institute in Dallas, Texas. Before witnessing these proud new Americans taking the Oath of Allegiance to the United States and receiving their certificates of naturalization, President and Mrs. Bush spoke briefly about the many contributions immigrants make to American society and economy.  You can watch the full ceremony here.
Prior to the ceremony, the Carnegie Corporation of New York held a roundtable discussion which included the President and Mrs. Bush.  The roundtable comprised a diverse group of professionals, community leaders and policymakers.  Members of the Dreamer community were among the group as well, sharing their unique experiences and perspectives on the immigration experience.
The Carnegie Corporation is a supporter of the George W. Bush Presidential Center and the work of the Bush Institute's Immigration program, which advocates for skills-based immigration reform. Geri Mannion is the director of the Corporation's U.S. Democracy program, whose mission is "to foster a pluralistic, vibrant democracy through the civic integration of immigrants, support for nonpartisan voter registration and education, and voting rights".
As Mannion explained: "Andrew Carnegie believed deeply that immigrant integration is essential to strengthening American democracy and maintaining our economic vitality. The Corporation's focus on immigrant civic integration reflects our conviction that American democracy must continue to reflect the core values of inclusion and diversity."