The upcoming release of Fluid live components is being heralded as the biggest change to Microsoft Office documents in decades. The Fluid framework will make it possible for collaborative content to live independently across the web. Content will no longer be static, bound to a specific document. Instead, Fluid live components are modules that exist across different applications and can be copied, pasted and shared with others. They are being rolled out this summer, starting with meetings and chats. As with Viva, Fluid live components are part of Microsoft's newest innovations for the hybrid workplace, a reality many of us already find ourselves in.
Meetings that actually matter
According to a study done by Microsoft, meetings have increased significantly over the past year, along with what they call "ad-hoc, unstructured communications", which presumably means Teams chats.  In fact, they found that meeting time has more than doubled since February 2021. And the average Teams user is sending 45 percent more chats per person, per week than they did a year ago. For this reason, the push to get Fluid components rolled out is clear:  Make it so you can be more productive – yes, actually get real stuff done! – while in all those chats and meetings. With Fluid components users can formulate, create, and reach group decisions with fewer meetings and without the need for long chat threads. And these collaborative experiences can be edited in real-time and shared across Teams and Office apps.
Keep that workflow flowing
Fluid live components have the potential to shift how everyone gets work done across Microsoft Teams and Office. According to those who've used it in preview, it is impressively quick, with no sync time. And while Microsoft is initially introducing Fluid live components in Teams chat and meetings, later this summer they are also rolling it out across OneNote, Outlook, and Whiteboard. Soon it will be easier to collaborate synchronously and asynchronously across Teams and Office apps.
Get ready to use Fluid live components in Chat
Since the chat rollout is already underway, I thought I'd get you ready with a quick how-to guide.
On your desktop:
Go to the box where you type a chat message and click on Insert live components right beneath the box.
Select the type of component you want to insert into your message. (Make sure the box is empty—with no other text in it—when you do this.)
Enter content into the component. Change permissions if needed.
When ready, send your message.
On your mobile:
Tap Compose options in the + menu , then tap Components , and select the type of component you want.
Enter content, and when ready, tap Send.
To co-edit a live component with other chat members:
Simply click inside the component and start typing.
See others editing with you in real time.
Here's just one small example of what it will look like in action: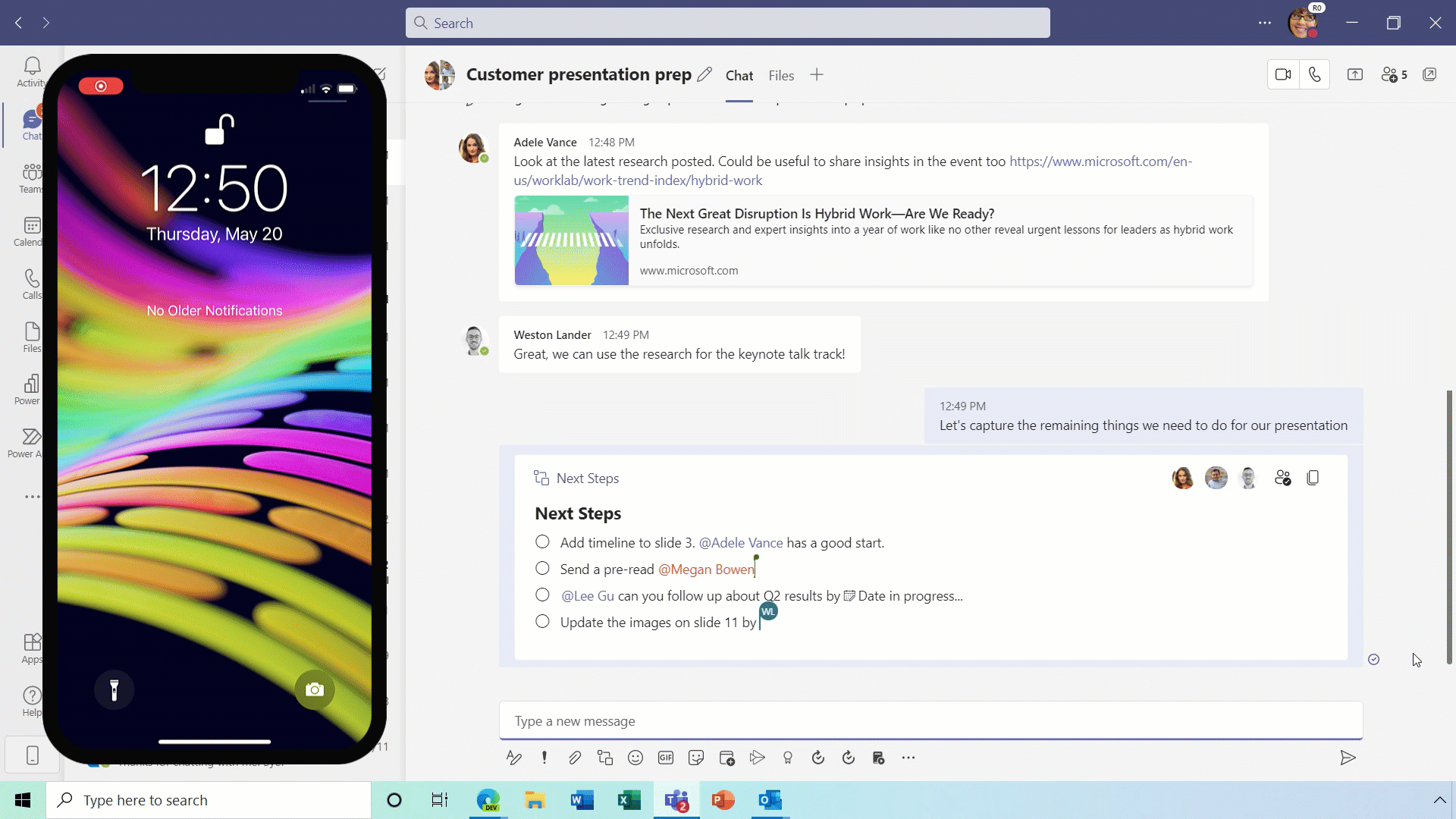 Coming attractions
As soon as we are able to get access to the Fluid component for chat (probably in the next few weeks), my colleagues and I plan to try it out in a group chat and make a demo video. I'll try to show you in some detail what it looks like to work with the Fluid features. And because it's what we do, one of us here at CGNET will be sure to share our opinions on whether it really lives up to all the hype. But from what I've read, these new Fluid live features really do look like they could prove to be groundbreaking when it comes to boosting productivity. So stay tuned: Same bat-time, same bat-channel! (Or maybe I should I say chat-channel?)