With user productivity in mind, Microsoft has recently added the ability to "pop out a chat" in Teams.   Users have been requesting this for a while, to make multitasking in other windows possible while chatting.
Now you can chat with someone – or even multiple people – while continuing work in other windows both inside and outside of Teams.  This is helpful when you need to keep a conversation going while accessing information in another area, such as viewing a document relevant to the conversation.
Popping out a chat window is super-easy, and there are multiple ways of doing it:
In the Chat sidebar, hover over the name of the person you are chatting with.  Now click on the ellipsis (…). A menu will come up and you will see the command "pop out chat" at the top.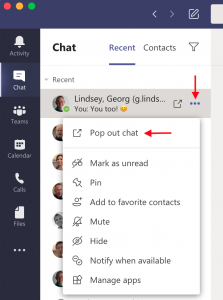 Easier still,  hover over that same name in the Chat sidebar.  Beside the ellipsis you will also see an icon with a square and diagonal arrow.  Simply click on that and you are in business!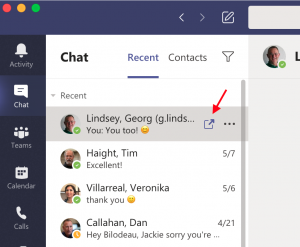 Finally, inside the actual chat window itself, the same square and arrow icon is also found in the upper right corner.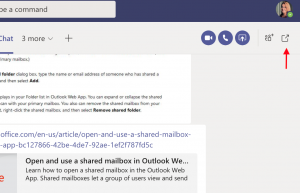 With these multiple, easy options you can keep on chatting and keep your other work going at the same time.  For lots of other fun tips and tricks when it comes to chatting in Teams, check out my post here.  And tune in to my blog for more Microsoft Teams tips, new features and updates to come!