Microsoft Loop is the latest collaboration app for Teams. The Loop app makes it easier for colleagues to work together in real time on projects.  Microsoft describes it as a "powerful and flexible canvas with portable components that move freely and stay in sync across apps." It comprises three features – Loop components, Loop pages and Loop workspaces.  Loop components in Teams Chat is the first feature to be introduced and is already rolling out. (Note that Loop components is actually a rebranding of Microsoft's "Live components", which I wrote about earlier this year. Both names are being used now.  However, the complete switch to the term "Loop components" is expected to happen in early 2022.)
What are Loop components?
These are any items — like a table, task list, or paragraph— that you open inside your Teams chat and which everyone in that chat can then edit in real time. Everyone sees the changes as they are being made. This takes Teams chat to a whole new level: Now you are no longer just talking about your work, but are actually doing the work, together.
Getting started
The steps to accessing and using Loop components are simple. First, while inside a chat – and starting with an empty message box — click on the "Insert live components" icon. (Note: It isn't clear whether the command will be changed to "Insert loop components" to match the new terminology next year. But just expect that it may.)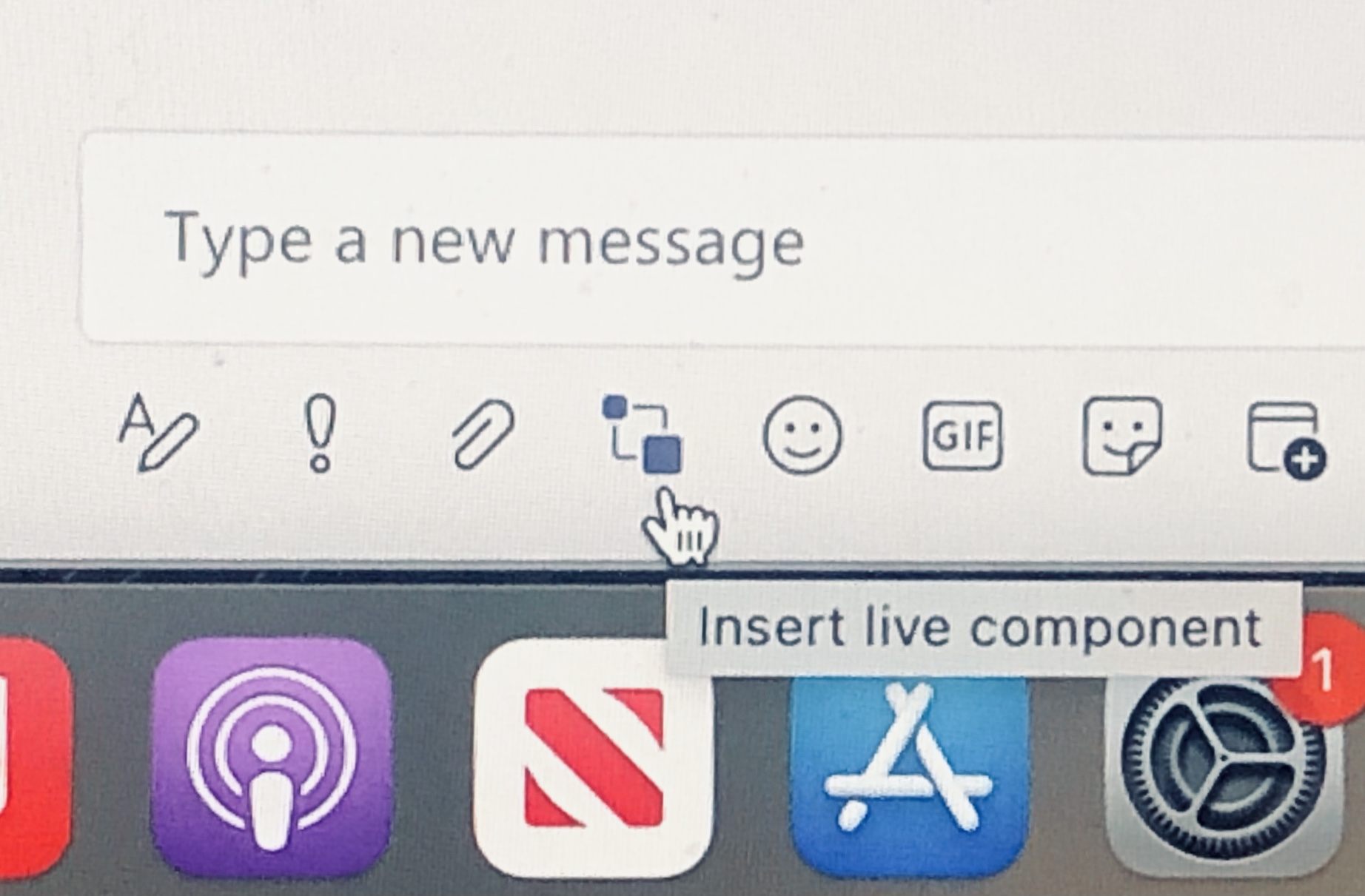 You will then get a pop-up list of the components available to you: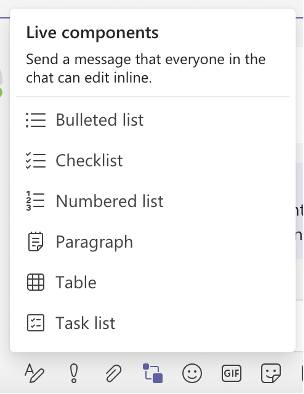 Click on the component you desire, and away you go!  Now everyone in the chat can work with you to complete that table, list, and so on.
Because the Loop components are fluid, live entities, anyone in the chat can jump back in at any time to make changes, and these will be reflected immediately. So your team can rest assured that they are always seeing the most up-to-date version of the component.
A few more things…
Use @mention to get specific people's attention, just like in Word, Excel, and PowerPoint documents. Loop will send a notification in Teams and an email to those you @mention.
See who wrote what by clicking or tapping any part of a component.
Utilize the Version History to view and recover previous versions of the component.
Every Loop component in Teams is saved as a file in your OneDrive for Business. Now you have the flexibility to access the work from anywhere, at any time.  And you also have the ability to open the component outside of the chat if you want to (for example, if you need extra work space).
Find your Loop components using Search not only in Teams chat, but also from Office.com and the Office mobile app.
In future releases, Loop components will also be supported in Teams meeting notes and channels, Outlook, and eventually across all Microsoft 365 applications.