It feels like a long time ago that I first wrote about Microsoft Loop, the dynamic collaboration app for Teams. Described by Microsoft as a "powerful and flexible canvas with portable components that move freely and stay in sync across apps", the Loop app makes it easier for colleagues to work together in real time on projects. In fact, it was at the end of 2021 that I introduced readers to the first feature: Loop components. Well, over a year later Microsoft is finally releasing the entire app — comprising Loop components, pages and workspaces —  into its Public Preview phase. Once your admin turns on Microsoft Loop (if you have Microsoft 365 it's already there waiting to be switched on), you can start taking advantage of real-time collaboration with your colleagues across all your devices.
Read on as I break down the three elements of Loop one-by-one.
Loop components
I detailed this main feature of Microsoft Loop in that 2021 post, as it was the first of the three to roll out. Here's a quick refresh of what you can do with it.
Inside a Teams chat, if you click on the Loop icon, a list of available components pops up: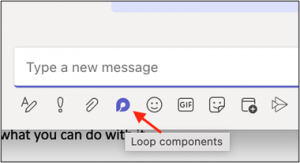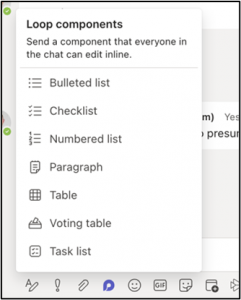 You can now use these to work together with your chat partners in real time. Many of these components have been there for a while (originally found by clicking the "Live Components" icon, the predecessor to Loop). However, Microsoft has added a couple of new components: a voting table designed to help speed along the process of reaching consensus on project ideas and a status tracker that keeps team members abreast of changes in the project on all apps, up to the very minute they happen. (As you can see from my screenshot above, right now only the voting table is available to us. I expect to see the status tracker show up sometime in the near future. Other components will likely be added in time as well.)
Loop components can also be used inside your email in Outlook.  Once you begin to compose a message, the Loop icon becomes active (found in the upper right of your email toolbar). Click this and you will get the list of available components to insert into your message: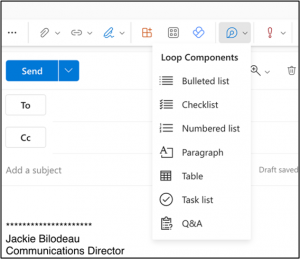 Finally, Loop components can also be added to Loop Pages. So, let's move on to that feature.
Loop pages
Loop pages are like OneNote pages…but more powerful. The biggest difference is that Loop pages can be edited by all collaborators in real-time. Now you can add multiple Loop components (files, tables, etc.), type text and give feedback with reactions on ideas or content, all on one dynamic, live canvas. It's as if you are all sitting around a table together and sharing files and ideas in person. You can build a page from scratch or use one of the many templates Microsoft provides to help get you started.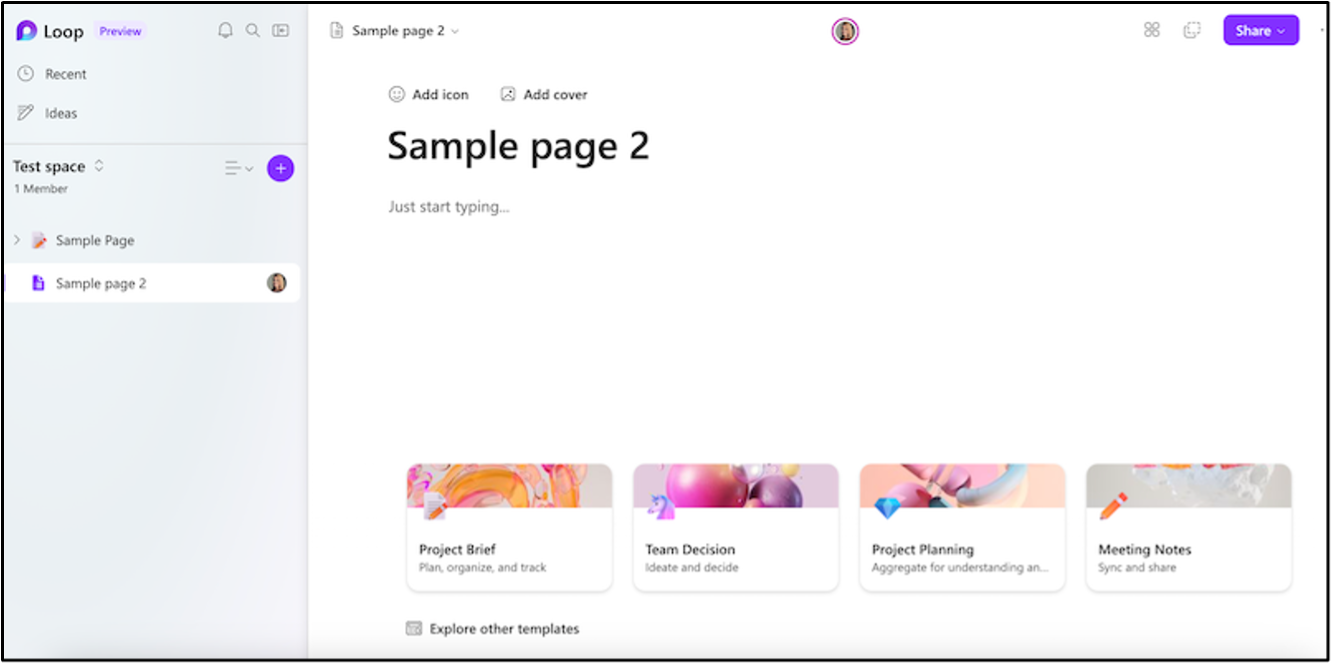 Share a whole page as well, either as a link or a live page. People can respond at their own pace, by whatever method works best for them. For example, a person who prefers email can add their input to the Loop component or page directly through a message. The changes will update across all the places where the component or page was shared.
Loop workspaces
Think of Loop workspaces as the digital gathering place for ALL parts of a particular project from Loop pages to spreadsheets to PowerPoint presentations and so on. This is where you and the rest of your team can store, organize and work on different aspects of a given project, from different apps, all at the same time. And again, in REAL time. A project's workspace will make it easy for everyone in the team to see what everyone else is working on, react to others' ideas and track progress toward common goals.
Here's an example from Microsoft of a workspace being used to navigate a project: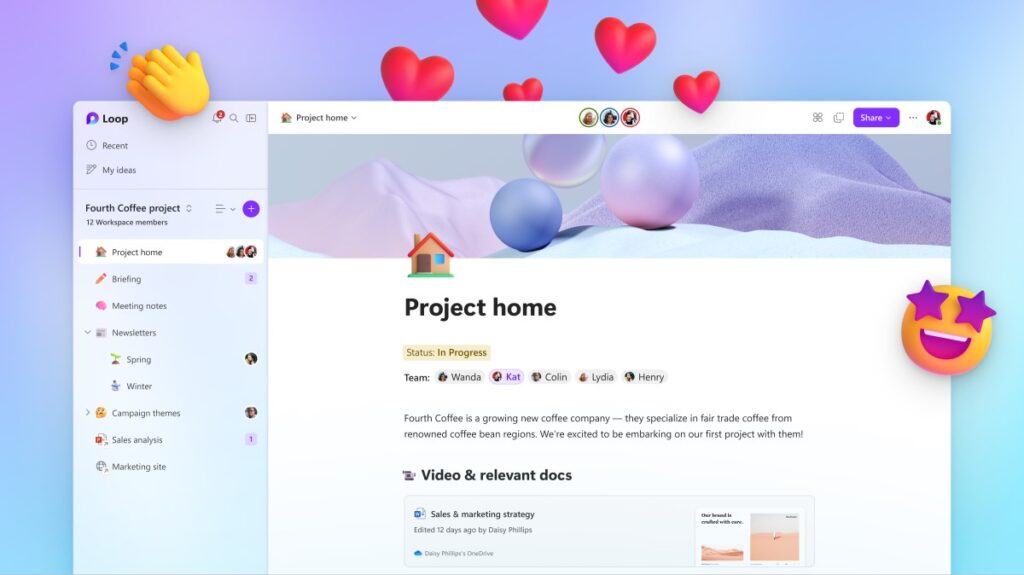 Start playing now
We have recently enabled the Public Preview mode of Microsoft Loop here at CGNET.  While some of the new features do not yet appear to be available, they are all expected to roll out over the upcoming weeks and months. So consider using this time to get a jump start on the learning curve. Have your IT admin enable Loop and play around with it. Microsoft makes it easy to set up your new workspaces and pages with handy templates that you can share with your colleagues. Because once they see how cool these collaborative tools can be, they'll definitely want to be kept…in the loop. (Yes, I went there. Sorry not sorry.)