First things first:  As of April 21, 2020, the official branding of Microsoft's productivity suite changed from Microsoft Office 365 to just Microsoft 365. The new name is simply a reflection of Microsoft's strategy of providing a single complete platform for its customers.
It should be noted that this is just a change in name only.   In general, the subscription you had under Office 365 is the same as the subscription you have under Microsoft 365.   Now on to a few cool new features.
Saving you time with predictive text
Microsoft has a new text prediction feature for Outlook in development that's similar to Gmail's Smart Compose feature.   The feature incorporates smart technology that will allow Outlook.com and Outlook on the web to offer up suggestions for what to write next, as you type. Outlook users will be able to accept suggestions with the tab or right arrow key, or just keep typing to ignore them.   This is rolling out this month.
Once it's available, to enable text predictions you go to the Settings gear icon at the top right of the page.  Click on View all Outlook settings, then go to Mail,  Compose and reply, and under Text predictions check the box next to Suggest words or phrases as I type.   To turn it off, simply uncheck the box.
Write it now, send it later in OWA
Microsoft is also developing a Send later feature for Outlook on the web that will allow users to schedule when to send an email message.    Right now in Outlook on the web, you can compose a draft message without immediately sending it off.   But then, of course, you need to remember to go back later, call up the draft and send it on its way.   With Send later you can just schedule it for a particular time and stop thinking about it.  This feature should be available before the end of June.
Stop the Madness! An End to the Reply-All Storms
You know those massive reply-all email threads that clog your inbox and make you want to pull out your hair?  Well, after experiencing this themselves on a massive scale about a year ago, Microsoft is now hoping to put an end to that nonsense for everyone.
They are rolling out a new feature for Office 365 — sorry, Microsoft 365 — geared toward large, company-wide emails that will block responses on messages sent to large distribution lists.
The new capability will initially be triggered when it detects 10 reply-all responses to over 5,000 recipients within 60 minutes.
When this happens, Microsoft will block any replies on that thread for four hours. Those who try to respond will see a message like this, notifying them that their email was not sent and offering fixes: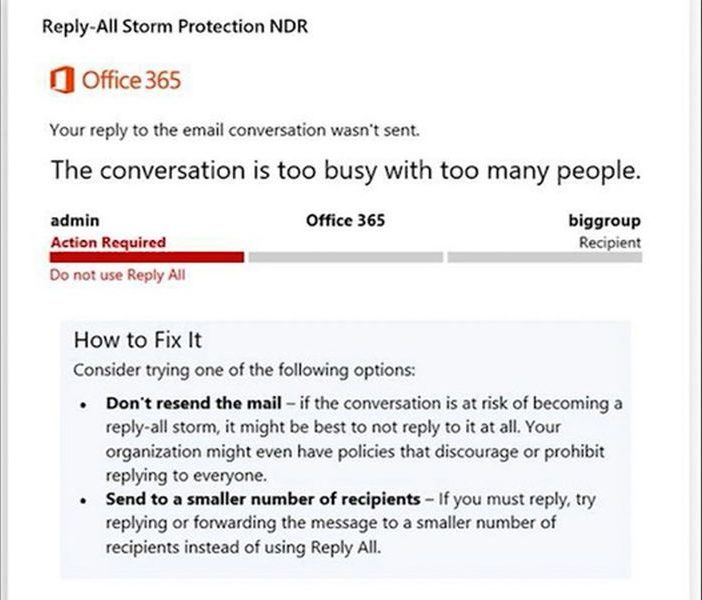 Microsoft also says that it plans to tweak and fine-tune the feature in the future.   While this will initially only be available to large organizations, they hope to soon accommodate smaller organizations. Microsoft also plans to eventually allow administrators to customize the defense mechanism and send notifications if a reply-all storm arrives.