In early December, my colleague Dan Callahan wrote a great post on all sorts of new features in Teams. Since then — yes, just in the past 7-8 weeks — Microsoft continued to introduce even more new Teams features.  Here's a look at everything that's new in Teams at the start of 2021.
What's new in Teams meetings
Virtual breakout rooms
Breakout rooms allow meeting organizers to divide the meeting into smaller groups to facilitate discussions and brainstorming sessions. A breakout room can be created in a Teams meeting or a Teams channel meeting, allowing for greater flexibility.
Organizers can now create up to 50 breakout rooms and choose to assign participants either automatically or manually into those rooms.
Organizers can easily go back and forth between the rooms, deliver announcements to all rooms at the same time, and bring everyone back to the main meeting at any time.
Any files created in the breakout rooms can be shared in the main meeting and are available afterwards in the meeting chat. Learn more.
End-of-meeting notifications
This next one is a handy new Teams feature: When there are five minutes left in the scheduled meeting time, all users will get a pop-up type notification like the one below, to help the meeting stay on track and wrap up on time. The notification appears for several seconds and disappears without any user action. (Note:  It does not cause the meeting to end automatically, so sorry: You're still on your own when it comes to silencing the "Chatty Cathy" of the group!)

Meeting "pre-join" experience improved
Prior to joining or starting a meeting, you now have your audio, video, and device options at your fingertips: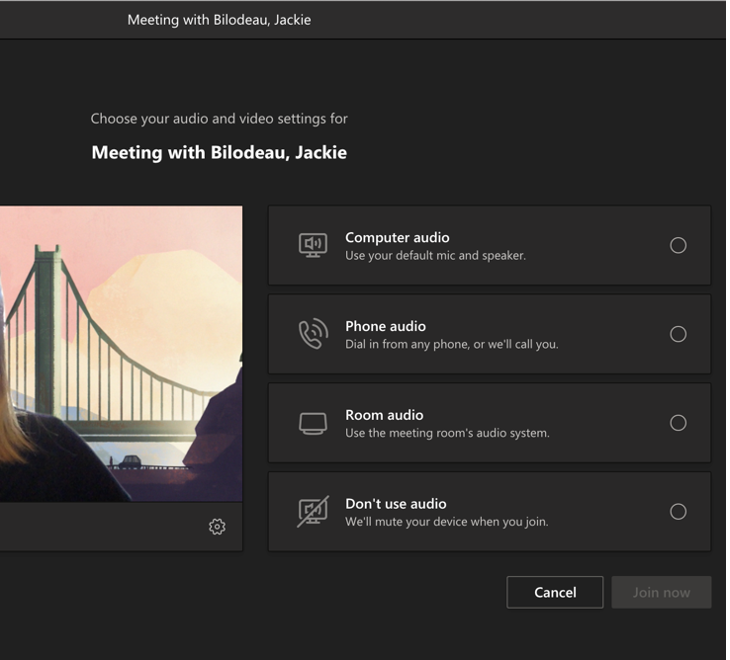 Changes to live events
Captions and languages
Live event attendees can now view real-time captions and subtitles translated in up to six languages in addition to the language being spoken. Event organizers can select the languages from a list of over 50.  You can find the list of languages and instructions for setting up captions here.
Extension of limit increases
Furthermore, as part of their continued customer support during the pandemic, Microsoft has extended their temporary limit increases for live events through June 30th.  This means:
Event support for up to 20,000 attendees
50 events can be hosted simultaneously across a tenant
Event duration of 16 hours per broadcast
Additionally, events for as many as 100,000 attendees can be planned through Microsoft's live events assistance program.
Improvements to Teams Calling
Choosing between multiple numbers
With this new Teams feature, you can now see a split button in the chat header for audio/video calling. This new display shows you all available numbers for a single contact (office, mobile, etc.) making it quicker and easier to initiate a call.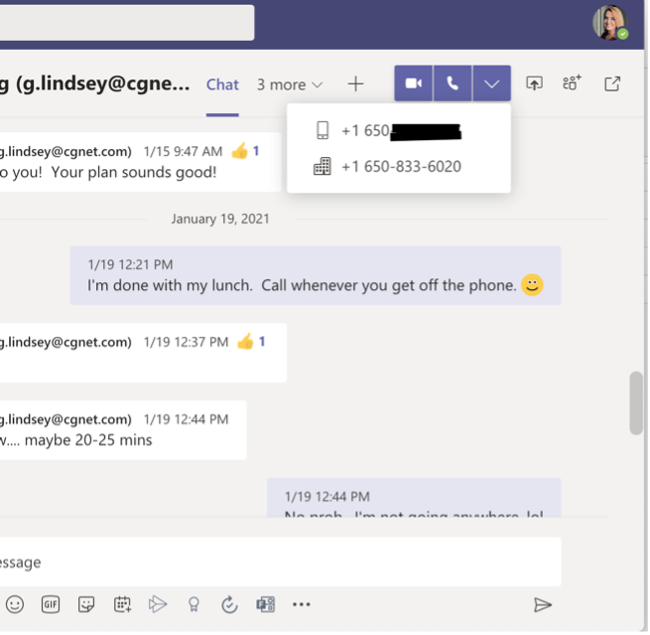 Live captions during calls
We all know – especially now, when many of us are still working from home – it is occasionally difficult to hear what the person at the other end of your call is saying.  Whether you're in a noisy environment or simply distracted and missed what was said, live captions make it easier to follow along in calls.  And if you decide the feature isn't necessary, you have the option of switching it off.  Please note: Your admin decides if this feature is available for use.
Chat & Collaboration
Improved Search relevance
Previously when you searched for a message in Teams, the results were ordered chronologically with the most recent at the top.  Now when searching for messages, the top 3 messages are generated and ordered by a newly developed relevance model.
Teams learns the relevant characteristics of a message that matters most to you based on a vast array of signals.  For example, it bases your results on who you interact with the most or on which teams and channels you are most active.
Offline access to files
The Teams mobile app for iOS now allows you to access files even when you are offline or in bad network conditions. Simply select the files you need access to, and Teams will keep a downloaded version to use in your mobile app. You can find all your files that are available offline in the files section of the app.
Video playback improved
Another new Teams feature is a faster-loading experience for embedded videos. Microsoft has reduced loading time by 25% and reduced the time it takes for the video to start playing by up to a whopping 90%!
Improvements to Yammer in Teams
You can now search for Yammer conversations while in the Communities app within Microsoft Teams, as well as add a tab with new Yammer styling in your Teams channels. You can earn more about these new features here.
Updated 'Add a Team to a site' wizard in SharePoint
Microsoft wants to make it easier to use the connected value of Teams and SharePoint. People can use SharePoint team site home pages with dynamic web parts as mini-dashboards for group content: pages, news, links, documents, group activity and more – and it's configurable. Choose the SharePoint content that you want to add as tabs in Teams when you first connect them via the "Add a Team" flow from your site. Learn more.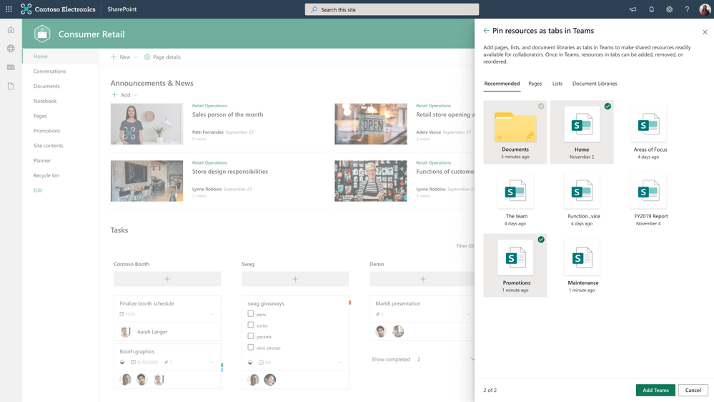 Updated SharePoint tab
Team members can now use the SharePoint tab experience to pin any page, news, list or document library as a separate tab in their Teams channel. Just go to the "+" button from any channel in Teams, select SharePoint and start pinning resources that your team needs to collaborate better.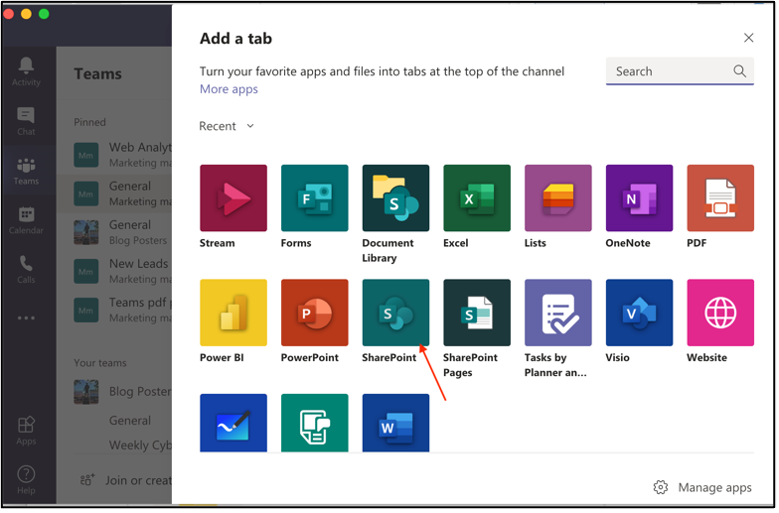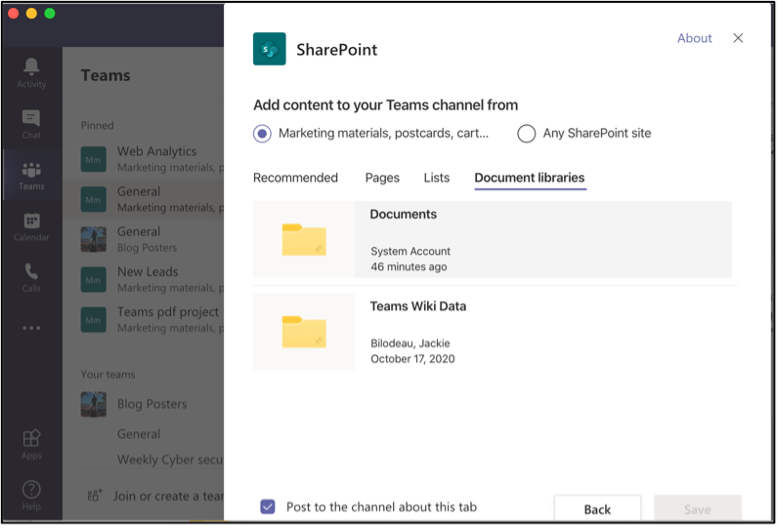 Security & privacy
New invited users option in lobby setting
A new lobby setting is coming to Teams meeting. Microsoft is adding "People I invite" as an option to the "Who can bypass lobby?" setting. Once enabled, only the participants invited by the organizer in the meeting invite can join the meeting directly. Everyone else is sent to the lobby to wait for admittance.
Customer Key security for Teams
Customer Key is an added layer of encryption and is already available in Exchange Online, SharePoint Online, and OneDrive. And now it is available for public preview for use in Teams. Learn more.